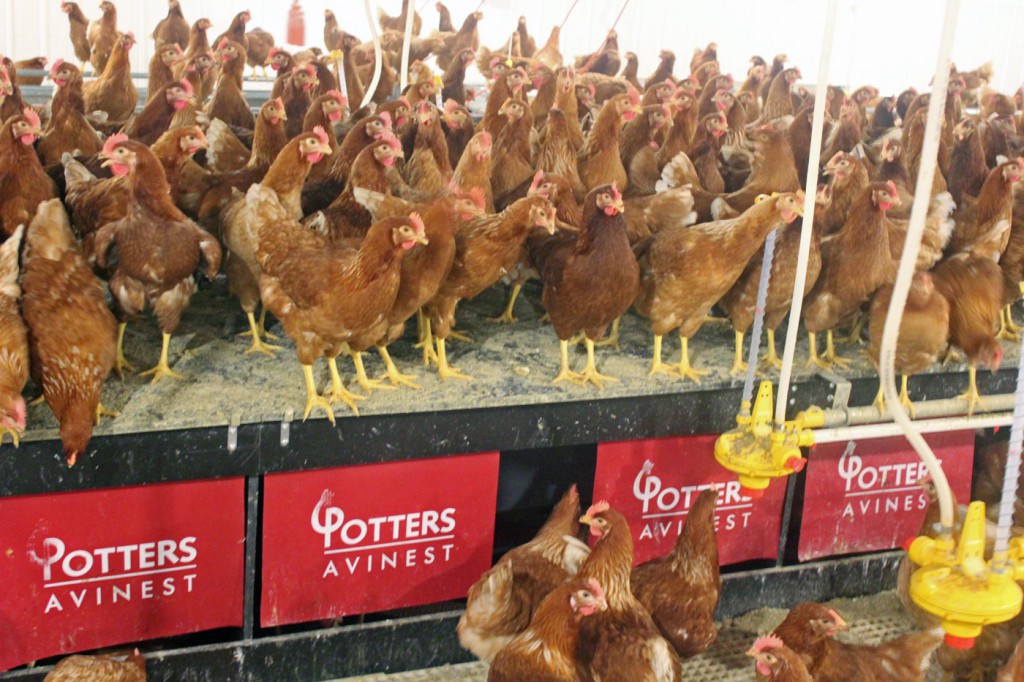 Potter's colony nests
A group of Missouri farmers is developing production systems needed to meet the growing demand for cage-free eggs. The producers contract with local egg companies to provide facilities that meet established humane standards for egg production. Unlike typical industry contracts, the farmers are also responsible for purchasing the birds and feed along with supplying labor.

Side doors allow chicken access to outdoor pasture
Farms produce either free-range or pastured eggs. Free-range hens have access to exterior areas equal to 2 sq. ft. per bird, while the pastured designation requires 108.9 sq. ft. per hen. The farms receive 17-week old pullets that begin laying at 19 weeks with full production reached at around 24 weeks.


Center egg gathering belt with AstroTurf pad
The 50' wide buildings feature a double row of colony nests down the center of the room, allowing nine sq. ft. of nest area per 100 hens. Curtain fronts on the nest provide the hens with a secure, dark laying area with AstroTurf® covered floors sloping to the center collection belt.

Raised flooring with either pan feeders or chain feeding
12' of raised plastic slatted flooring extends on each side of the nest boxes with the feed and water lines located there. A 9-1/2' lowered scratch area runs along each sidewall.

Windstorm 36" panel fans and 54" exhaust fans
The ventilation system is a combination power/ natural design with a 36" fan and ceiling inlets providing minimum air requirements. Two 52" fans stage on as the weather warms with the sidewall curtains dropping to supply the increased airflow. Hot weather triggers high-pressure misters on with 36" box fans increasing air circulation. Some of the larger facilities also add evaporative cooling systems with tunnel ventilation fans for extremely hot weather and eliminate the sidewall curtains, misters, and 36" stir fans.

Automated access doors to outside runs with portable shades outside.
Hens are locked out of the nests overnight until 5:30 am. Egg collect begins at 9 am with the sliding side doors opened at 10 am to allow the hens access to the outside runs. Chickens can move freely in and out of the buildings during the day choosing their environment. In the outside lots, the hens have access to portable shades along with supplemental feed and water.

Manual egg packer and automatic version
A second egg collection occurs mid-afternoon. Smaller facilities hand pack the eggs from the center collection belt while larger operations utilize an automated packing machine. Walk-in egg coolers capable of maintaining 45-degree temperatures hold the eggs until the farm's weekly pickup. The building's side doors remain open until after dark with the interior lights left on to draw the hens in before closing up for the night. Approximately ½ hour before shutting down the building lights, the nest floors lift up gently pushing the hens out of the colony nest and blocking access until the next morning.