Nearly all of Hog Slat's competitors try to dismiss the GrowerSELECT® product line as "just a cheap copy." However, every time I work with Hog Slat's engineering department I realize how misguided this perception is.  Nothing is ever "just copied."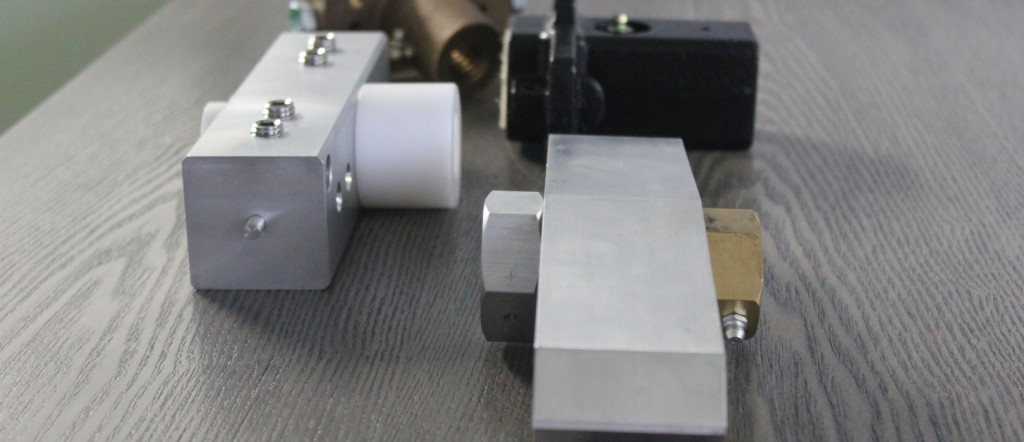 I was quizzing Hog Slat engineer, Tim King, about the features and benefits of GrowerSELECT's Curtain Machine.   He explained to me that one of the highest replacement items on a screw type machine is the load nut. As the load block moves up and down the Acme screw, the friction generated causes the insert to fail.  If friction is reduced, wear and maintenance of the insert is reduced.
For the GrowerSELECT Curtain Machine, Tim selected acetal plastic to be used for the insert and cabinet slides.  Acetal is one of the strongest non-reinforced plastic available to replace metal bushings.  It is able to reduce friction within the curtain machine because of its low friction coefficient.  So why is this plastic a better choice than the brass or nylon inserts shown in the pictures?
To get a better understanding of Coefficients of Friction, consider these ratings of various materials used for bearings.
Steel on steel dry contact is .80, if you apply grease it becomes .16
Brass on steel dry contact is .35, grease it and it is now .19
Nylon on steel dry contact is .25 and with lubrication moves to .15
Acetal on steel dry rating is .15.
These ratings aren't telling anyone anything they didn't already know. Keep a bearing greased, and it will last a long time. What is interesting though is the rating for an acetal load nut without grease is the same as any of other insert materials with grease.
As a matter of fact, the acetal load nut does not even have a grease zerk.  However, we still recommend greasing the Acme shaft with general purpose Lithium grease, primarily to prevent surface rust on the shaft.
I wish you could put your hands on the four inserts in the picture.  The acetal has a slippery, almost oily feel to it; different than the nylon insert.  It is a denser, heavier plastic that is less brittle compared to nylon.
The real advantage is in the day-to-day maintenance on your farm.  The best intentions (like greasing a curtain machine) get lost in the bustle of all the work.  Why not choose a curtain machine with features that reduce maintenance?   Click on Curtain Machine for more information.
Comments (0)