To the best of my knowledge, when we built them in 1989, these were the first tunnel/natural ventilated houses constructed in the state," explained Rodney Bowden at his family farm near Clinton, NC. "We've always had good results in the buildings, but the recent upgrades have improved our performance."
Rodney added two GrowerSELECT 54″ AirStorm fans per house to increase airspeed and reduce the ambient temperature. The durable AirStorm 54″ fans feature a fiberglass housing, plastic shutters, and a stainless steel prop.
The next step in the upgrade was to replace the original feed pans with GrowerSELECT Classic Flood feeders. Rodney said, "Installing the new pans helps minimize wasted feed when the birds are young and has improved my feed conversion during grow out."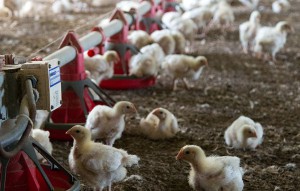 These investments have paid off with an increased bird performance and helped Rodney settle in first place among his group several times since the upgrade.
Click GrowerSELECT for more information about our quality feeding and ventilation systems.
Comments (0)